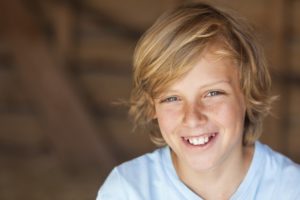 If your child's teeth look rough, chalky, or mildly discolored, they may have fluorosis—a common condition among children. You may be wondering why their teeth have this cosmetic problem, and of course, if there's anything you can do to repair their smile. Thankfully, your dentist in Tallahassee knows all about fluorosis and how to treat it. Keep reading to get the information you need to help your son or daughter get back the beautiful smile they deserve.
What is Fluorosis?
Fluorosis is a cosmetic condition that is caused by overexposure to fluoride during the first 8 years of life. This is the time where your child's permanent teeth are being formed, and after they come in, parts of their smile affected by fluorosis may be slightly discolored. Typically, the cause is inappropriate use of dental products that contain fluoride. Sometimes children like the taste of toothpaste or mouthwash and may misuse them. Most commonly, their teeth will have lacy white markings that only a dental professional could spot. However, in more serious cases, children can have teeth with problems like:
Surface irregularities
Yellow to dark brown stains
Highly noticeable pits
It's important to know that signs of fluorosis are most common among children ages 12 to 15, but most cases are mild—only less than 1% of cases are "severe."
Is Fluorosis Treatable?
In many cases, fluorosis may be so mild that your child won't even need treatment. Or, it's possible for only the back of their teeth to be affected. However, if your child has noticeable fluorosis, there are treatment options!
Cosmetic issues like surface stains can be dealt with using professional teeth whitening, giving your son or daughter a radiant smile once more. But, if they have more severe stains that can't be treated with whitening, they could benefit from porcelain veneers. These thin shells of dental porcelain are bonded to the front surfaces of their teeth, masking a wide range of imperfections.
Can Fluorosis Be Prevented?
Thankfully, fluorosis can be completely prevented, but it's up to you as a parent to help your kids care for their smiles. Most tap water contains fluoride, so you can ask your dentist in Tallahassee how much is in the local water supply. At home, you can keep all products containing fluoride out of the reach of your children so they won't get into them without your supervision. Also, ingesting too much fluoride can cause nausea, vomiting, and diarrhea, so these are some signs to watch out for if you think your son or daughter has gotten into some fluoride.
Now that you know this important information about fluorosis and how to prevent it, use these tips to keep your kids' smiles safe, healthy, and beautiful!
About the Practice
Dr. Steve , Dr. Ransey Boyd, and Dr. Kirstin Walther are a team of dentists who are experienced in treating patients of all ages. They can provide all of the dentistry services your child needs to smile with beauty and health. For any questions, they can be reached through their website or by phone at (850) 878-4117.