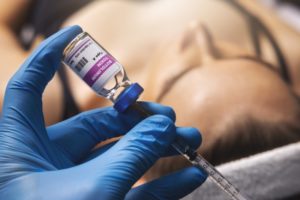 Between the threat of COVID-19, businesses shutting down, and people being cooped-up in their homes, some people are having a hard time squeezing joy and positivity out of a stress-filled year. Even in the midst of all of the chaos, countless people have found ways to make lemonade out of lemons. The demand for plastic surgery-related treatments like BOTOX have increased tenfold, helping dentists everywhere who offer this specialty cosmetic service keep their doors open, all while giving their patients a little serotonin with a confidence-boost. Read on to find out why the pandemic has led to a massive BOTOX boom, according to several dentists and cosmetic specialists.
The Unexpected BOTOX Surge
Many healthcare providers, including dentists, reopened their doors last May after the country-wide shutdowns and stay-at-home orders were lifted. The last thing that they were expecting was a waiting list of patients looking to get BOTOX and dermal filler injections. After months of being cooped-up in a house and having more time to focus on your body and how you feel in it, it actually makes complete sense why so many people wanted to enhance their appearance. The surge hasn't been statistically-confirmed because there haven't been any official studies or reports to support it, but many dentists are noticing that demand is increasing.
Finding a Spark of Control & Confidence Amidst the Stress
Since the start of the pandemic, people have been under incredible stress and anxiety due to a change in routine and the lingering threat of COVID. Plus, since BOTOX results wear-off within about four to six months, some people may have noticed that their youthful glow is gradually fading. Finally, as dental offices opened, people could claim a little control over their lives by refreshing their BOTOX results.
Non-Invasive, Virtually Instant Results
Because BOTOX injections are fast, non-invasive, and offer results that can appear within three days of treatment, they're an instant serotonin boost that many people needed. Although BOTOX is regarded by many as a superficial treatment, it has lifted countless people's spirits and allowed them to claim a little extra control over their lives within the last chaotic year.
About the Author
Dr. Kirstin Walther has been providing her patients with high-quality cosmetic dentistry over the last several years. She has completed additional training and education in a wide array of services, including Invisalign and BOTOX administration. She loves being able to boost her patient's confidence and improve their moods during these incredibly difficult times. For questions or to schedule an appointment for BOTOX, visit , Boyd & Walther Dental Asssociates' website or call 850-878-4117.