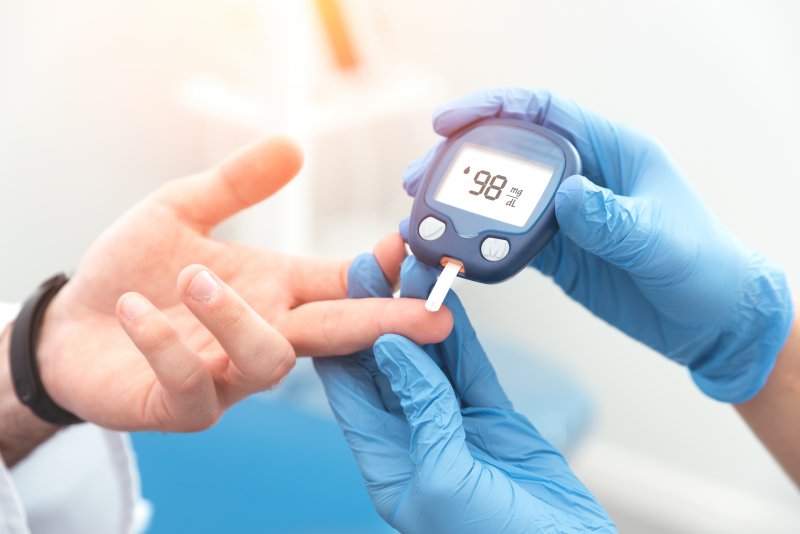 Proper dental care and a healthy lifestyle are essential to maintain good oral health. However, if you have diabetes, it's especially important for you to take good care of your teeth and gums. Your chances of developing gum disease are significantly higher, which is why you must work a bit harder to prevent it. Are you unsure how the two are related? Read along as your dentist in Tallahassee discusses the relationship between gum disease and diabetes.
The Link Between Gum Disease and Diabetes
The divide between your oral and bodily health is not as black and white as it may seem. If you have diabetes, you're at an increased risk of developing gum disease. Since diabetes affects your body's ability to control blood sugar, your chances of experiencing gum problems are higher. And like most infections, periodontal disease can cause your blood sugar to rise. As a result, diabetes is more difficult to control as you're more susceptible to infections and less equipped to fight them.
How Does Untreated Diabetes Affect Your Oral Health?
In most cases, doctors detect diabetes with blood tests during routine checkups. If your blood sugar levels come back high, they'll likely recommend treatment for your condition. It's crucial to manage diabetes with medical treatment – otherwise, it can affect your oral health in the following ways:
Decreased saliva production, making your mouth feel dry
Lack of saliva increases your risk of cavities
Inflamed, bleeding, tender, and swollen gums (signs of gingivitis)
Delayed wound healing
Susceptible to infections inside your mouth
Tips to Prevent Gum Disease If You Have Diabetes
If you have diabetes, you should get into the habit of monitoring your gums daily for inflammation, redness, swelling, tenderness, and bleeding. These symptoms can alert you of periodontal issues that require treatment.
Luckily, there are several measures you can take to maintain a healthy smile while managing your diabetes. Here are just a few steps you can take:
Control your blood sugar levels. Take diabetes-related medication as instructed, eat a healthier diet, and incorporate exercise into your life to manage your blood sugar.
Practice good oral hygiene. Brush your teeth and gum line with a soft-bristled toothbrush twice a day for two minutes each time. Don't forget to floss daily as well!
Clean your tongue. Although it's often overlooked, cleaning your tongue is a crucial part of your routine. Food particles, bacteria, and other debris can get trapped in between the grooves and crevices on your tongue, so make sure you clean it thoroughly with your toothbrush.
Visit your dentist regularly. Ideally, you should be seeing your dentist bi-annually for checkups and cleanings. They're the perfect opportunity to share and discuss concerning symptoms like bleeding or swollen gums.
All in all, managing gum inflammation and diabetes is completely possible. By maintaining excellent oral care and controlling your blood sugar levels, you can enjoy a healthy smile and body for years to come!
About the Practice
At , Boyd & Walther Dental Associates, we're passionate about helping patients achieve optimal oral health and overall well-being. We care about more than your smile – we care about your body too! If you have diabetes, we can develop a treatment plan to prevent and manage gum disease. We'll monitor your gums carefully during every routine checkup to ensure they're problem-free. Visit our website or call (850) 878-4117 to schedule an appointment.