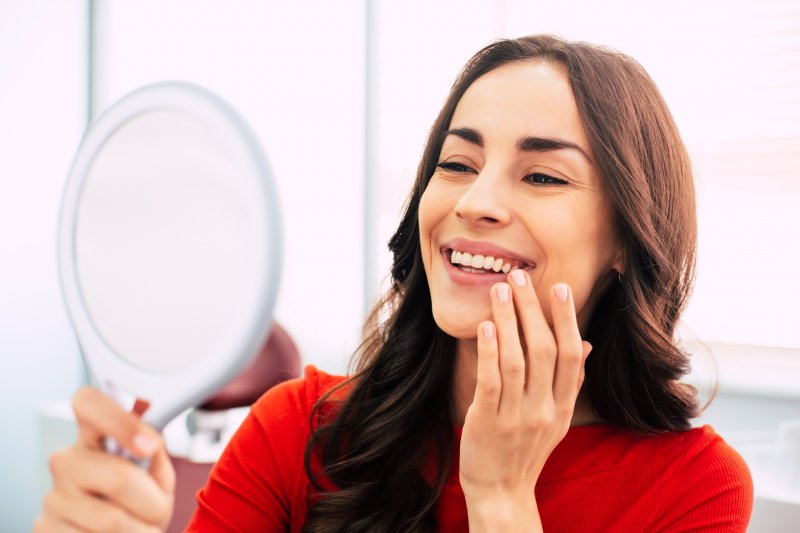 For the 120 million Americans who are missing at least one tooth, dental implants can be life-changing. Not only do they have unparalleled durability, but they also prevent your jawbone from deteriorating and hold an impressive 95% success rate! However, it is important for candidates to remember that the surgery is only the first step. To join the millions of patients with full smiles, strong bites, and perfected speech, it is crucial to prioritize your dental implant aftercare. Read on for best practices during the healing process!
What to Expect Following Your Procedure
Following your procedure, it is normal to experience some swelling or bruising. After a few days, it will naturally subside. However, it is important to rest so your body can focus on healing. To ease any inflammation, you can hold a cold compress against the outside of your cheek for 10 minutes at a time. Also, sleeping slightly propped up on a few pillows can be helpful.
How to Keep Your Implant Site Clean
To prevent the implant site from becoming infected, it is important to keep your mouth as clean as possible. On the evening of your surgery, you should begin cleaning your other teeth as you typically would. Take special care to avoid the wound the first few days. As the tenderness begins to subside, you can begin gently cleaning the area with a soft-bristled toothbrush. You can also use a salt and water rinse (a cup of hot water for every teaspoon of salt) to prevent infection and kill harmful bacteria.
Eating with Your New Dental Implant
After your procedure, it can be tempting to indulge in your favorite foods. However, it is important to remember that the days and weeks following your procedure play a crucial role in the overall success of the dental implant in Tallahassee. In addition to keeping food away from the surgical site, take extra care to avoid foods that can irritate the area. Therefore, stay away from chewy foods, like steak, as well as chewy snacks and beverages that are extremely hot or cold.
Today, dental implants are a leading tooth replacement option. However, to enjoy the benefits they are known for, it is important to prioritize your aftercare. That way, you can experience a full smile, strong bite, and improved speech for years to come!
About the Practice
At , Boyd & Walther, each member of the team is united by their mission to deliver personalized care, provide a comfortable environment, and use the latest technology to help their patients achieve strong, healthy smiles. With their friendly staff at their side, Dr. Ransey Boyd, Dr. Kirstin Walther, and Dr. Steve can help patients with everything from routine cleanings and smile upgrades to periodontal therapy and dental implants. If you are looking for an implant dentist in Tallahassee, visit their website or give them a call at 850-878-4117.