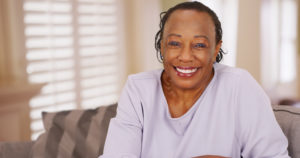 Are you missing teeth? If so, you're not alone. According to the American College of Prosthodontists, nearly 178 million Americans are missing at least one tooth and about 30% of adults between the ages of 65-74 have no natural teeth. Thanks to modern dental technology and techniques, there are a wide variety of ways to regain a complete set of pearly whites. However, only one option can restore your smile's appearance and function while preventing jawbone loss. Here's what you need to know about dentures and implants in Tallahassee when it comes to jawbone preservation.
Why Missing Teeth Lead to Jawbone Loss
When it comes to your health, your teeth help with more than just eating. The force exerted when you bite and chew food travels through your teeth to their roots. This encourages circulation in the jawbone, which keeps it healthy and strong. When a tooth goes missing, the jawbone loses the stimulation that was once provided by the roots. Without the proper circulation, the bone tissue in the jaw begins to break down in a process called bone resorption.
According to a study in the Indian Journal of Dentistry, as much as 25% of the bone near a missing tooth may be lost in the first year after a tooth is lost or extracted. Not only does this lead to a weaker and smaller jawbone, but it can influence your facial features as well. When the jaw shrinks away, the facial bones it supported shift, which can give your features a sunken, aged look.
How Dentures Replace Missing Teeth
Dentures are a classic way to replace missing teeth right away. Thanks to modern technology and materials, dentures of today are incredibly realistic and precisely crafted for a close and comfortable fit.
However, dentures only replace the visible portion of missing teeth and aren't designed to support the jawbone. In fact, some research even suggests that wearing dentures can increase the rate of bone deterioration because of the extra pressure placed on top of the gums.
Why Dental Implants are the Superior Choice
Dental implants, on the other hand, mimic missing teeth both above and below the gumline for the most lifelike and healthy results. Small titanium posts are surgically placed in the jawbone, where they fuse with the surrounding bone tissue. Once they've fully healed, a custom-made crown, bridge, or denture is attached to the top of the posts to restore your smile.
By replacing the tooth's roots with implant posts, blood flow in the jawbone is stimulated and deterioration is prevented. Alongside maintaining your jawbone and appearance, this unique placement offers even more advantages over dentures, like:
No slipping or popping out of place.
Maximum stability so you can comfortably eat anything you want.
A potentially permanent solution to missing teeth.
If you're missing teeth, it's time to reclaim your happy, healthy, and strong smile with dental implants! Talk to your dentist today to see if this life-changing treatment is right for you.
About the Author
Dr. Steve has been caring for the smiles of Tallahassee and the surrounding communities with high-quality dental care since 1980. He truly believes that dental implants are the best tooth replacement option available, which is why he's completed numerous hours of continuing education and advanced training in this unique treatment. Whether you're missing one, several, or all your teeth, he can personally help you restore a complete, confident, and healthy smile. To see if you're a candidate for dental implants, feel free to reach him via his website or at (850) 878-4117.