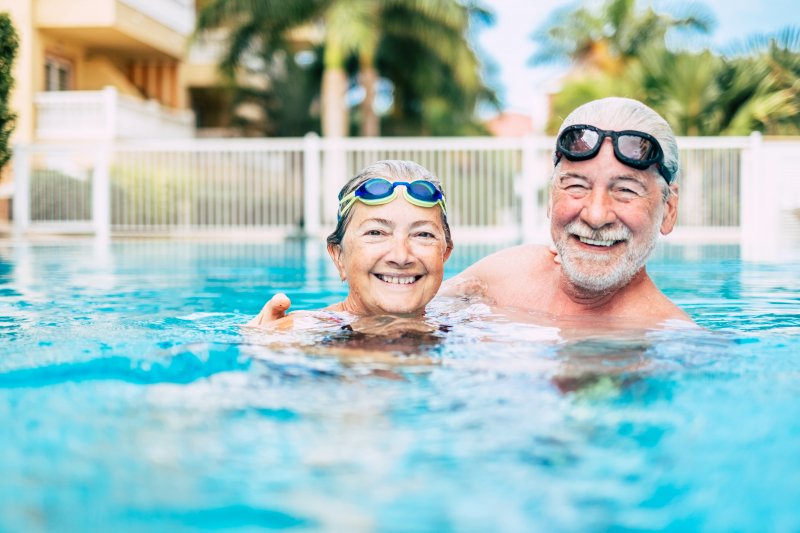 When the summer heat hits, few things are more refreshing than a dip in the pool. After all, swimming is good for your cardiovascular health, is a natural stress-reliever, and is a great summertime activity. While there is some concern about the effects on your skin, it is also important to note that prolonged exposure to chlorine can wreak havoc on the enamel of your teeth. Therefore, your dentist in Tallahassee is sharing five ways you can protect your smile this summer while at the pool.
What Effect Does Chlorine Have on My Teeth?
Although chlorine plays a vital role in disinfecting both public and private pools, it can also erode the enamel on your teeth if the pH balance is off. If the reading is above or below the usual 7.2 to 7.8 level, then it could result in a condition called "Swimmers calculus." This is categorized by the discoloration of a swimmer's front teeth from repeated exposure to chlorine. To prevent this from occurring, always check the pH strip in the water. If this is not available, then take a look at the railings, ladders, and pool linings. If they are in poor shape or have rusted over, then it is a clear sign the pH balance is off.
5 Ways to Protect Your Teeth from Chlorine
While professional swimmers are the most vulnerable to the negative effects of chlorine, anyone who frequently swims is susceptible. Therefore, it is of the utmost importance that you protect your teeth by:
Checking the pH balance in the pool before entering.
Keeping your mouth closed while swimming.
Brushing and flossing your teeth when you leave the pool.
Using toothpaste with MI Paste and xylitol additives (which fight the acid in pools).
Visiting your dentist twice a year for a dental exam and professional cleaning.
If swimming is your favorite way to get your exercise in or cool off in the summer, it is important to know that you don't have to give it up! However, it is crucial to protect your teeth in the process so you don't end the summer with a discolored, frail smile. So, make sure to follow the above recommendations so you can have beautiful, healthy teeth for decades to come!
About the Practice
At and Boyd Dental Associates, modern dental technology, a welcoming environment, and 1-on-1 attention are just a few of the ways they deliver the topnotch service they are known for. With their talented staff at their side, Dr. Ransey Boyd, Dr. Kirstin Walther, and Dr. Steve use their training, experience, and passion for dentistry to make patients actually look forward to going to the dentist! If you are currently looking for a family dentist in Tallahassee, don't hesitate to contact them through their website or by phone at 850-878-4117.