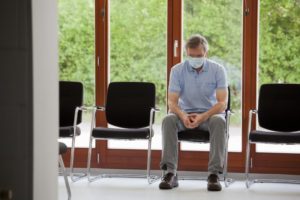 For the past few months, you've been diligently following the CDC's recommended health guidelines. You've staying home as much as possible and avoiding direct contact with other people when you do go out. One day your dentist in Tallahassee calls you, saying they've reopened and it's time for your checkup. When you arrive at the office, a sign on the front door tells you to sit in your car instead of the waiting room until the dentist is ready for you. Why is this the case? Keep reading to find out.
Why Is Your Dentist Having You Wait in Your Car?
Waiting rooms used to contain activities like magazines and toys to keep patients company until their appointment began. Not anymore. Your dentist's staff have removed these activities because people would touch them all day, potentially exposing them to all kinds of germs, such as the pathogens that cause COVID-19. Since the coronavirus can live up to several hours on some surfaces, it's best to avoid touching these items, which is why your dentist's staff have removed them.
To avoid the waiting room altogether, they're asking you to instead wait in your car and check in with your phone. A member of your dentist's team will call or text you when they're ready for your appointment to begin. This way, when you enter the office, you can walk right past the waiting room and head straight back into the treatment area.
How Else Is Your Dentist Combating COVID-19?
Doing away with the waiting room isn't the only dental safety protocol that your dentist is following. Some of the other ways that the team is keeping you safe from COVID-19 include:
Wearing Increased PPE
Instead of just gloves and a face mask, the members of your dental team will be wearing more PPE (personal protective equipment) than they used to. These items may include surgical gowns, shoe coverings, and face shields. They create additional layers that germs have a difficult time breaking through, protecting both you and the dental team.
Pre-Appointment Screening
Before your appointment starts, a member of your dentist's staff may ask you a few quick questions regarding your current health. They should also take your temperature with a no-touch thermometer. This is done to ensure all patients who enter the office are healthy.
More Frequent Cleaning
Your dentist's staff will be going above and beyond to thoroughly disinfect the office in between patients. In addition, they'll deep clean the office every evening after closing to kill as many germs as possible.
While waiting in your car might not be as entertaining as reading magazines in the waiting room, it's much safer for everyone. Rest assured that your dentist in Tallahassee takes every precaution to keep you safe while you're under their care.
About the Practice
Aspros, Boyd and Walther Dental Associates is proud to provide a comprehensive approach to meet the dental needs of the Tallahassee community in a warm and welcoming environment. To keep their patients safe from COVID-19, they are asking patients to wait in their cars as well as following standard safety precautions. To learn more, you can visit their website or call 850-878-4117.