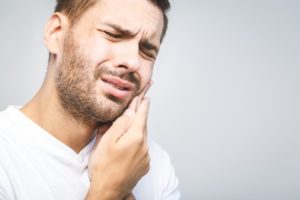 Do you have a certain ache or pain in your smile that's beginning to worry you? How do you know if you're having a dental emergency? Dental problems will often only grow worse if left untreated, which is why it's important that you're able to recognize that you need dental care. Keep reading to learn some common warning signs that you may need to visit your emergency dentist in Tallahassee.
#1. A Loose Tooth
Adults should never experience wiggling teeth because their smiles are firmly stabilized in the jawbone. However, a loose tooth can be a sign of serious problems. Primarily, loose teeth may be a result of dental injury or facial trauma. These cases are usually painful, and you should seek treatment right away. However, loose teeth can also indicate jawbone deterioration from previous tooth loss or gum disease. Both instances should be treated immediately to help save your smile.
#2. A Severe Toothache
If you feel a slight aching in your tooth, first try to floss around the area and rinse with water to ensure it's not a pesky piece of food debris causing problems. If the pain persists, you probably have a toothache, which is an infection that has penetrated your tooth's protective enamel. You can make yourself more comfortable by taking over the counter pain medication, but then you should contact your emergency dentist immediately. They will most likely perform root canal therapy, which will successfully remove the infected or damaged tissue without having to extract your entire tooth.
#3. Swelling in the Jaw
Swelling in your jaw can often indicate serious infection, which will require attention as soon as possible. Complications with the jaw can result in trouble breathing, so this problem should never be taken lightly. Sometimes, it could be an infected salivary gland, which blocks saliva flow, allowing bacteria to live in the mouth and cause problems.
#4. Bleeding and Aching Gums
Do your gums ever bleed after brushing or flossing? While this problem is fairly common, it is typically an indication of gum disease. Infection in the gums should be treated as soon as possible to prevent more serious issues from occurring, but it's not necessarily an emergency. However, if you notice excessive bleeding, aching, and even a bad taste in your mouth, contact your dentist right away to save your smile.
#5. A Dental Abscess
A dental abscess can be very painful because it is usually found in the root of a tooth. It occurs when a cavity is left untreated, and the decay reaches the tooth's roots. However, it can also be caused by facial trauma or injury. You may notice a pimple like bump near the tooth, but you will almost always experience pain and sensitivity to pressure as symptoms.
Now that you know more about dental emergencies, you can be aware of the common warning signs, so you'll know exactly what to do in order to keep your smile safe and healthy.
About the Practice
At , Boyd & Walther, we are committed to helping our patients get out of pain and back to smiling. That's why we provide a wide range of emergency dental treatments at our convenient location. If you have any questions, we can be reached through our website or by phone at (850) 878-4117.