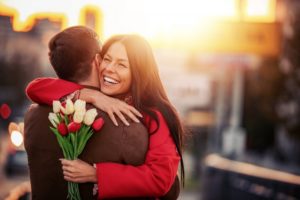 Valentine's Day is the perfect moment to show your partner how much you care with gifts, flowers, hand-written notes, and chocolates. The pressure can be high, but one great way to know whether teeth whitening is the perfect gift is to think back to past conversations—have they mention how much they'd like to whiten their teeth, but just can't spare the funds? Even though it's an unconventional gift, it's a very practical and helpful one! Read on for five reasons teeth whitening is a great Valentine's Day surprise.  
1. A Bright Smile Doesn't Go Out of Style
Unlike other gifts, like the latest fashion trends or kitchen gadgets, a bright smile never goes out of style. It helps amplify every outfit, makes you feel good at every outing, and in many cases, people who have never gotten teeth whitening find the results to be priceless because they have a ripple effect of benefits throughout their lives.
2. It Can Boost Their Self-Esteem
By getting your partner teeth whitening for Valentine's Day, you're not telling them their smile isn't beautiful or that they should want a brighter smile—you're merely giving them what they have expressed desire for in the past! Many people want to erase stains and discoloration on their teeth because it helps boost their self-esteem, which can help them have more positive and confident interactions with others.
3. Every Time They See Their Smile, They'll Be Reminded of You
After your partner gets teeth whitening and ends up loving their results, they'll be reminded of you every time they catch a glimpse of their smile in the mirror and it fills them with joy. Arguably, this is the best reason for you to invest in this cosmetic treatment for their Valentine's Day gift!
4. It Can Help Jumpstart Their Career
Studies have shown that a brighter, whiter smile can have a bigger impact on one's career and success than you may have thought. When someone confidently displays their smile in a job interview or internal promotion pitch, they're more likely to exude capability and make eye contact. So, if your partner has an important career opportunity coming up, this is all the more reason to invest in the gift of teeth whitening for them.
5. It's a Gift That Keeps on Giving
With the proper maintenance, teeth whitening results can last for up to an entire year! That means that your gift won't just be something that your partner gets and then forgets about—they'll be able to enjoy the benefits of a brighter smile for months to come.
About the Practice
At Boyd & Walther Tallahassee Dental Associates, our team is run by two highly capable, skilled, and experienced dentists, Dr. Ransey Boyd and Dr. Kirstin Walther. Both of them are passionate about helping their patients unlock their full potential when it comes to the beauty and health of their smiles, which is why they offer a wide range of dental treatments, from routine checkups and cleanings to teeth whitening and BOTOX injections. For questions or to schedule an appointment, visit our website or call 850-878-4117.