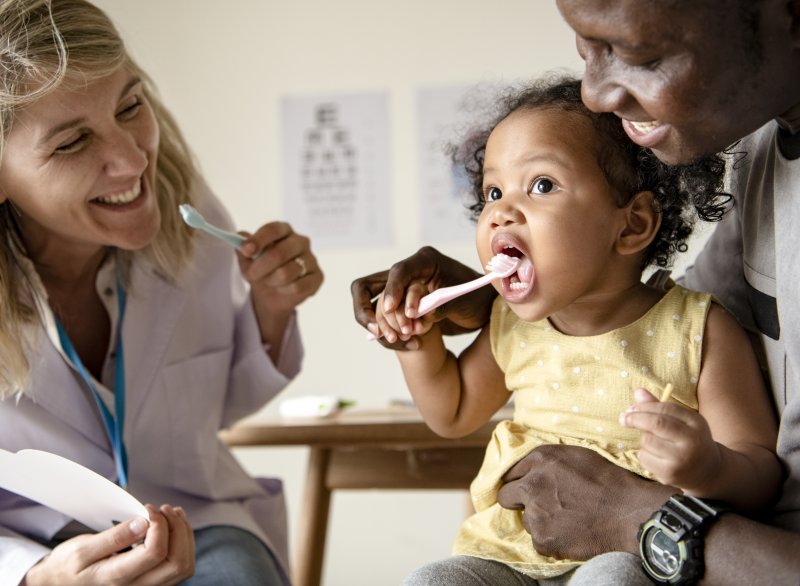 Do you know why the American Dental Association and your local children's dentist in Tallahassee recommend scheduling your child's first dental appointment by the time they reach the age of one? It may seem a bit early to start this oral hygiene journey, but the truth is that even before their first tooth erupts, bacteria can develop on gums and put your little one at risk for potential oral health problems. Read on to find out you and your one-year-old will benefit from this early visit.
You'll Save Money in the Long Run
Regular preventive care is one of the most pivotal ways to save money on future oral healthcare problems. When your child's teeth and gums are in good shape and free of decay and disease, you can keep more money in your pocket, which will allow you to spend it on things your family might need throughout the year. By bringing them in before they turn one, not only will you, as the parent, learn more about what you can do to safeguard their growing smile at home, but your dentist can begin to monitor their tooth eruption and bite development to ensure everything is on track.
It Can Help Prevent Pain
No one wants to see their child in pain; however, when oral hygiene is neglected, it can often cause cavities or an infection to develop, resulting in pain throughout the mouth. These early dental visits will allow your child's dentist to check for any early signs or abnormalities that might cause discomfort later on if left untreated. If one or more teeth are already present, they can look for any darkened areas that may be attributed to tooth decay. By administering fluoride treatments and recommending proper dental hygiene habits be performed at home, these early visits can reduce the risk of pain. Not to mention, most children's dentists can offer tips and suggestions regarding how to navigate the teething process, which can be challenging for both you and your baby.
This Visit Can Reduce the Potential for Cavities
Early detection for tooth decay is crucial if you want to keep your little one from receiving a dental filling or crown. It's no surprise that children are prone to cavities, as they have minimal dexterity when it comes to brushing and flossing. In fact, cavities are considered "the most prevalent disease of childhood" according to the Federal Interagency Forum on Child and Family Statistics. This is why you must know how to properly care for their teeth at home as well as let a professional examine their smile and clean any erupted teeth early on. With preventive treatment, your child's teeth will remain cavity-free.
It Can Decrease the Chances of Your Child Missing School
Although it may be several years before your little one is attending regular school, you want to ensure they start on the right foot, especially when it comes to their oral health. Early visits to the dentist will help to keep their teeth and gums developing correctly and without problems, minimizing the potential need to take them out of class for follow-up dental appointments or treatments. You want your child to be learning as much as possible, so you'll want to do all you can to avoid taking them out of class for oral hygiene problems that are avoidable.
You'll Be Safeguarding Your Child from Potential Tooth Loss Later in Life
It may seem hard to believe that early dental visits for your one-year-old can help prevent tooth loss later on in their life, but it's true. The earlier you establish healthy oral hygiene habits and a positive relationship with their dental team, the greater their chances of being proactive about their dental health and maintaining good habits throughout their adult life. As a result, they may be able to keep more of their natural teeth for longer.
Taking a proactive approach to your child's oral healthcare is one of the best things you can do for your little one and their smile.
About the Practice
, Boyd & Walther Dental Associates are led by a team of experts who are passionate about oral healthcare and helping patients achieve brighter, healthier, more beautiful smiles. Drs. Steve , Ransey Boyd, and Kirstin Walther go the extra mile to ensure patients of all ages receive the care they need when visiting our office in Tallahassee. Even infants can benefit from the specialized services provided. If you are looking for a children's dentist who can guarantee compassionate and high-quality care, visit our website or call (850) 878-4117.